Installation OF THE MONTH
Each month All Star Rain Gutters will feature its premiere install of the month highlighting our unique approach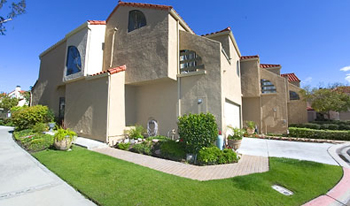 to installing seamless rain gutters on new or existing homes and buildings.
Project Scope: All Star was originally called out by a homeowner in this condominium complex to inspect and provide a solution for an aggravating courtyard that did not allow for drainage or evaporation as the courtyard never receives sunlight.
After completing and providing our famous "Gutter Solutions" for this troublesome courtyard, it was revealed to All Star that the home owner was in fact, Sylvia James, the condo's Home Owner's Association President. Sylvia now divulged the true scope of her intentions. Sylvia was so pleased and impressed with All Star that she asked us to bid on the entire complex.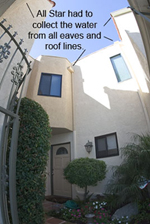 All Star Rain Gutters replaced and installed 6" OGEE Gutters to accommodate for the large Spanish roof tiles that beautifully accent these homes.
Below you will see the troubled areas of this project and our unique solutions provided for each one.
Trouble Spot: Sylvia's Courtyard. As you can see the sun never shines down into the courtyard and prior to the installations, each time it rained, Sylvia was greeted with her very own wadding pool. We first had to address the eaves and roof lines to ensure all run off is collected into down spouts.
All Star Solution: Joining the two down spouts into the one exiting spout was next on the list to divert run off out and away from courtyard planter. Water run off is now completely and properly diverted away and out of the planter.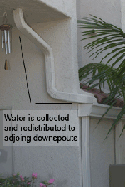 Trouble Spot: Upper Deck Runs Off into Lower Deck. Water run off from upstairs balcony were draining directly into downstairs porches creating quite a mess each time it rained.
All Star Solution: Divert run off into adjacent roof eave gutter system.
Trouble Spot: Planters Flooding. Unfortunately this happens all too often even though you may have existing rain gutters. The problem occurs when a gutter installer encounters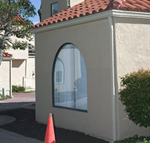 the dreaded Spanish Tile Roof. Spanish Tile Roofs must incorporate a 6 inch OGEE or 6 inch Half Round Gutter system. The reason is that a 5 inch solution will not allow for proper water catch because of the height of the tile. Having said that, most Rain Gutter Installers do not have the proper equipment to extrude a 6 inch half round or OGEE gutter.

Instead, they install the 5 inch solution and when the customer complains that the water is not being properly trapped, the installer returns to add a 1 inch flat piece of sheet metal on the outer edge of the 5 inch gutter in an attempt to catch more water. The impending result is not only unflattering to the previously beautiful roof line, it only slightly improves the problem.
All Star Solution: Do the job correctly from the start. All Star removed all 5 inch gutters systems and replaced them with brand new 6 inch OGEE gutters that properly handle the rain water run off and as you can see below; not only do they work properly, look how well our installs blend into existing architecture.

Trouble Spot: Improper or Hasty Miter-Cuts. Along all the roof line angles in this complex, the estimator noticed water stains under all the existing previously installed gutters. The estimator highlighted this in his estimate and pointed this out to Sylvia who was more than happy to know the stucco exterior walls in her complex would no longer have water stains. FYI - Sylvia had the whole complex painted too - we can not take credit for that one.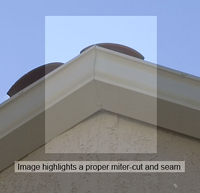 As you can see in this cut out, making sure you have a professional installer, such as All Star, will ensure less headache down the road when the rains come!
Make All Star Rain Gutters your choice for Rain Gutter Installations