Seamless installations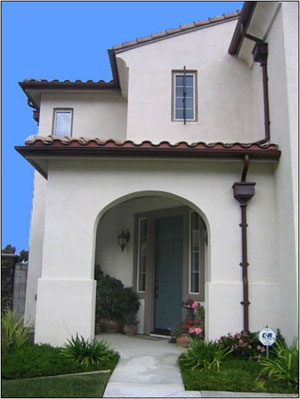 Each All Star rain gutter installation begins with a thorough inspection of eaves, facia boards and soffit boards. This is done so there are no surprises during the install process. In addition we inspect exterior walls to be sure our downspouts are held securely in place.
Most gutter installs are completed in just one day with some custom jobs taking 2 days. All gutters are custom extruded to the exact length required, on site, at your location to insure perfection. Gutters are available in copper or any color in aluminum.
As you can see pictured right, our installations our professional and seamless. In the image try and see which curved line is the gutter install. Click image to enlarge.
Call Now & Schedule Your Consultation!
800-840-9717